Changing Places Installations
We are very proud of our growing portfolio of Changing Places projects designed to substantially benefit the quality of daily life for disabled users and their carers or family. Our case studies demonstrate the wide range of public facilities we can install Changing Places into and the range of equipment we recommend.
This page will be regularly updated with new installations.
Wimbledon All England Tennis Club
The All England Tennis Club hosts one of the worlds most prestigious tennis tournaments. With a brand new Changing Places, Aveso provided state-of-the-art equipment to ensure a fully specified CP toilet.
The Deep – Aquarium
New Changing Places facility available in one of the UK's biggest aquariums. The Changing Places Facility has a beautifully designed 'under the sea' theme with a range of essential equipment provided by Aveso.
Arsenal Football Club
Aveso are proud to have completed the 1st Premier League Football Club Changing Places facility at Arsenal FC Emirates Stadium in London.
Sheffield Hospital
As part of a large modernisation project, Aveso helped Sheffield Hospital to include a Changing Places toilet; increasing accessibility for their patients.
Stansted Airport
London Stansted Airport called upon the expertise of campaign sponsor Aveso to increase their accessibility for disabled holidaymakers by installing new Changing Places toilet facilities.
Tesco Extra Stourbridge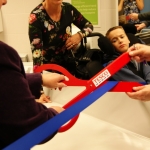 A major landmark project has now been completed by Aveso as Tesco are the 2nd major UK Supermarket to install a Changing Places facility in their Stourbridge Extra store.
Guildhall Swansea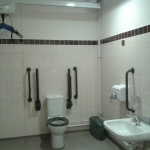 During the regeneration of the historic Guildhall in Swansea, Aveso were called upon to create a brand new Changing Places facility which complemented the surroundings.
Bradgate Park Leicester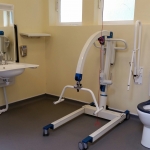 Voted as one of the UK's "Top 10 Parks" Bradgate Park continue to excel as demonstrated by their extended and converted accessible toilets to allow for a Changing Places.
Brighton and Hove FC
The club (more frequently known as "The Seagulls") features the Changing Places toilet in the East Wing of the stadium for disabled visitors and carers.
Whitstable Harbour
A campaign heavily led by Changing Places champion Caroline Mumford led to the successful installation by Aveso in 2015 at Whitstable Harbour.