The 6-Step Guide for Campaigners
Aveso offer a 6 step guide for successful campaigning for Changing Places in your local area. We realise that the prospect of planning a campaign for Changing Places is nothing short of a mammoth task, this is why we have collated our conversations and experience with campaigners over the past few years to assemble a guide for future campaigns. If you have any other tips you feel we have missed, please get in touch and let us know.
Take a look at the breakdown of helpful campaigner tools beneath and for more information plus your own copy of this guide, download it (for free) right here.
Step 1: Assemble the Troops
Getting together a group of people who want to campaign for Changing Places toilets can make it easier to campaign and help you to be more effective.
It will encourage people to listen to you and take you seriously, as well as showing that Changing Places toilets are wanted and needed by many people. Having a campaign group means that you can share tasks out and use people's strengths in the best possible way. Everyone can play a role – people who are willing to send out leaflets are just as crucial to your campaign's success as those who are able to take a lead role. You may also want to get other groups and charities in your area on board. In particular, you could contact local branches of charities that are supporting the Changing Places campaign.
A full list is available on the Changing Places website (www.changing-places.org) which includes:
Contact a Family
Capability Scotland
Enable Scotland
Headway
If you do not wish to form a campaign group yourself you could find out if there is a local campaign group in your area you could join.
Step 2: Aims and Objectives
If you are running a campaign as a group, you will need to agree on several things:
The roles within your campaign group? Play to each team member's strengths, who is the organiser, who enjoys writing letters, who is the people person, who could be the face of your group?
How many venues will you target? You need to set realistic targets for your campaigning, this way you will have a good basis for measuring your success. You may decide to target just one venue or it may be multiple venues dependant upon time and resources.
Which venues will you approach? You could consider which venues would make the most difference to people's lives, which organisations are most likely to be receptive and whether there are any plans in place for new buildings?
How long will your campaign last? It is a good idea to set a time table for action with some hopes for install dates for your Changing Places. By doing this, you will keep your team motivated and keep everyone involved in the bigger picture.
Once you have decided these things, you should write them down and share them amongst your team – this is your basic campaign plan. Templates for a plan can be found in the download.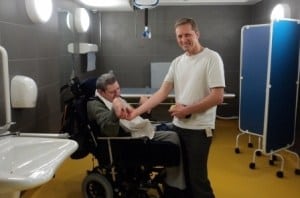 Step 3: The Right Info
You can now start to gather information that will help you build your campaign's case. You also need to tell them why people need Changing Places and how to go about doing this. Some useful campaigner tools and materials can be ordered through the Changing Places website to help you along the way.
Important factors to consider in this process will be 'The Moral Case', 'The Business Case' and 'The Political and Social Case'. These three alternative cases are the basis of reasoning behind the installation of a Changing Places and form the arguments for why a business should seriously consider a Changing Places for their premises.
Other information that will play an important part in this process will be the technical information detailing what a Changing Places consists of (don't forget, Aveso can help you here). We would also suggest that you arm yourself with case studies of Changing Places that have been installed thanks to your fellow campaigners across the UK, a venue can't deny the success of a Changing Places when confronted with a successful one.
Step 4: Make the Approach
You're now ready to start approaching your target venues, organisations and key people. This is where your campaign really gets going – as you start to persuade people of your case.
You will want to consider approaching the following people and groups:
New Build Plans: for venues for example, local councils
Public Sector Organisations: for example, Hospitals or the local authority
Private Sector Organisations: for example, Supermarkets or transport companies
Local People: get the people in your community engaged and informed
Other Influencers: with capabilities to spread the word such as local mp's, the local and national media
You can give these influential people copies of the Changing Places postcards and leaflets to tell them about the campaign (these can be ordered through the Changing Places website www.changing-places.org). You can also order a copy of the PAMIS Changing Places video and show this to as many people as possible. Find out how to do this at www.changing-places.org
Step 5: Persistence Pays Off
By this stage, you will have contacted all your target venues and told them about the Changing Places campaign. Hopefully, this has resulted in some venues agreeing to install Changing Places toilets by a certain date.
The next step is about making sure that things actually happen – that your target venues keep to any commitments they have made to you. This is all about good negotiation.
Here are some things you can do:
Next Steps: Make sure the organisations know exactly what their next steps are and how they can achieve them.  Suggest they liaise directly with Aveso as the Changing Places official sponsor and manufacturers of the required equipment.
Updates. Ask the organisations you have made contact with for regular updates on where Changing Places sits on the agenda
Assistance: Offer to assist with advice on the Changing Places and any accompanying market research a venue might need as part of the decision-making process
Promotion: When your organisations have made the move and installed their Changing Places, there will be cause for celebration. But not before telling your local community and any media contact you can about the fantastic work of the organisation in question.
Marketing: Help the organisation with a guide for marketing and promotion. It is important that the venue understand that they also need to promote the facility so that the thousands of people needing a Changing Places know that it is there for them to use.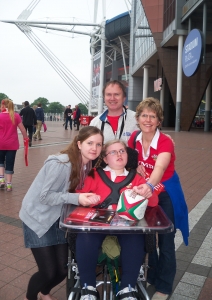 Step 6: Savvy Celebration
Hopefully, your campaign has produced results: your target venues have installed Changing Places toilets, or they've given you guarantees that they will be installed by a certain date.
Now is the time to celebrate – and to spread the word about the success of your campaign:
Tell the Changing Places Consortium about your achievements in installing a Changing Places by visiting www.changing-places.org maybe you can add your story to the 'Real Life Stories' page too?
Publicly Thank the Venue and all involved in the campaign you ran. It's really important to show recognition for the hard work and commitment involved in the Changing Places process
Tell Local and National Media perhaps arrange an official opening and invite the media to it?
Tell the people likely to use a Changing Places about the great news, which may include local day centres, local schools, the Hospitals and respite centres for example
Make sure you do all of the above actively on social media too– don't forget how powerful social media can be in communicating with both campaigners and decision makers
Be proud of yourselves! Pat yourselves on the back with the social contribution you have made
Start a plan for the next one…