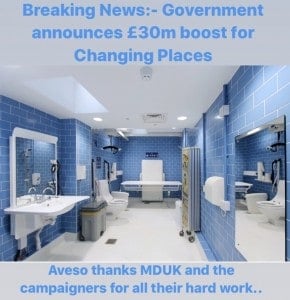 Aveso alongside the Changing Places consortium are delighted to share the news that the Chancellor, Rishi Sunak MP, will be announcing a £30 million investment for Changing Places toilets in the Budget on Wednesday 11th March. The new Changing Places Fund will see the Government match fund the costs of installing Changing Places toilets in existing buildings. It is unclear as of yet as to whether this will be for the whole of the UK or England only.
Aveso alongside MDUK, the Changing Places Consortium and Campaigners met with Rishi Sunak and Government officials back in 2018 and 2019 to discuss how the Government could help.
In addition Rishi Sunak is expected to confirm that Changing Places toilets will be compulsory in new public buildings and refurbished buildings by the end of the year. This follows the Government consultation in 2019
This will mean more disabled people can go out, shop, and socialise without worrying about a lack of toilets.
Changing Places toilets have more room than a standard accessible toilet, with specialist equipment such as an adult-sized changing bench and a hoist system.
Chancellor of the Exchequer, Rishi Sunak said:
"Where people shop, go out, or travel should not be determined by their disability. Yet, currently the lack of the right facilities can prevent some people from enjoying the day-to-day activities many of us take for granted. I want to change that, which is why my Budget this week is about spreading opportunity, not only across different parts of the country, but also throughout our communities."
The Government will set out further details on the Changing Places toilet Fund in the not to distant future. Aveso and MDUK will share more details as soon as we have them. The excellent Changing Places Consortium will work closely with the Government to identify those sectors where the provision of Changing Places toilets needs to be accelerated.
The Changing Places Consortium adds "Thank you to all campaigners who have been putting pressure on the Government for years to try and increase the provision of Changing Places toilets across the UK- this victory is yours!"