People's Choice Changing Places Awards
The People's Choice Changing Places Awards is a way to offer recognition to the Changing Places toilets that go above and beyond; the ones that make toileting and changing so easy and hassle-free. It's a chance for you, the users, the carers and the campaigners to vote for the Changing Places facilities that have made the best impression on you and to let us know why.
The standard has been set high, with previous winners including the Emirates Stadium, Sandcastle Water Park and Cornwall Services Changing Places. But with more brand new and exceptional facilities being registered than ever before, it really could be anyone's game.
This year there are three categories for The 2019 People's Choice Awards.:
Overall People's Choice Award:  Best Registered Changing Places Facility 2018/19
Best "Newly Registered" Changing Places Facility 2019 (Registered since 19/7/18)
Most Individual Registered Changing Places Facility 2019
Sandcastle Waterpark – PCCPA Winner 2015/6 AND 2017/18
Two-time winner for 2015/16 and 2017/18 – voters praised Sandcastle Waterpark for their 'wonderful staff' and the quality of the colourful decoration to amuse children being changed.
Sandcastle Waterpark has been working tirelessly to transform their venue into a hub of inclusivity and installing a Changing Places was just one of the ways they were able to achieve this. With a beautifully decorated facility and BS8300 compliance, Sandcastle Waterpark has gone the extra mile to support the disabled community in so many ways –  a worthy winner.
Cornwall Services – PCCPA Winner 2016/7
The winner for 2016 and a firm favourite amongst the voters; winning by an unprecedented landslide. The inception of the facility began when Rachel George and her son Adam, both active campaigners, were spotted by Cornwall Services Manager Alex Lawson, who discussed with them why so much equipment was needed to allow Adam to use the loo.
The Changing Places was installed not long after, and with a relaxing beach scene on the ceiling and rainbow fish decorating the walls, it's a delight for children and families who need specialist equipment to use the loo. Most notably, the helpful and friendly staff were cited as a winning quality.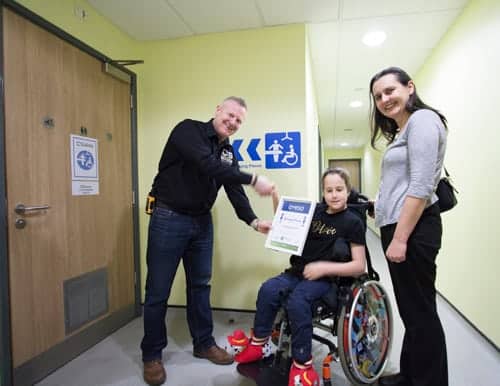 Best Signposted – 2017/18 – Ryan's Box Crawley County Mall
The signage for this particular Changing Places is exemplary. With great signage and an access to all ethos, the impact of these facilities can be far greater. Care was taken to ensure signage was placed at optimal locations from the facility door, around County Mall to locations around Crawley Town Centre.
Councillor Peter Smith of Crawley Borough Council described:
"As part of our overall town centre regeneration program, we sat back and looked at the wayfinding and branding for the whole of the town, to make sure that the people that know what Changing Places are, are able to find them."
Most Individual Changing Places 2017/18 – Inverness Airport
We have seen a number of individualised facilities opened this year, many theming their facility to their attraction, often with a mural wall, but Inverness Airport has taken a different approach and incorporated a sensory corner, with comfy seating and subdued light-ing. Inverness Airport has recently been rated as Very Good in terms of their disability access – one of only 6 UK airports to achieve this rating.