The Changing Places campaign has been going from strength to strength since it launched in 2006. Over this 13 year period, we have seen more than 1,300 Changing Places toilets installed, and this year in particular there have been really positive changes to the campaign. The English government has put in place £2 million grants to fund Hospitals & Motorway Service Stations. Additionally, a government led public consultation has been held in Scotland and is still open for response in England. Great steps have been made, but there is still a long way to go with over 1/4 million people in the UK needing a fully accessible toilet.
To celebrate Changing Places Awareness Day, Aveso, sponsors of the Changing Places Campaign, launched a public vote for 'The People's' Favourite, Best 'Newly Registered' and 'Most Individual' Changing Places toilets. By celebrating these venues that have gone the extra mile to be inclusive, it is hoped that this will raise awareness for the campaign and encourage more venues to install fully accessible toilets.
The winner of the People's Choice Changing Places Awards 2018/19 for the 'Most Individual' Changing Places goes to The Deep, Hull.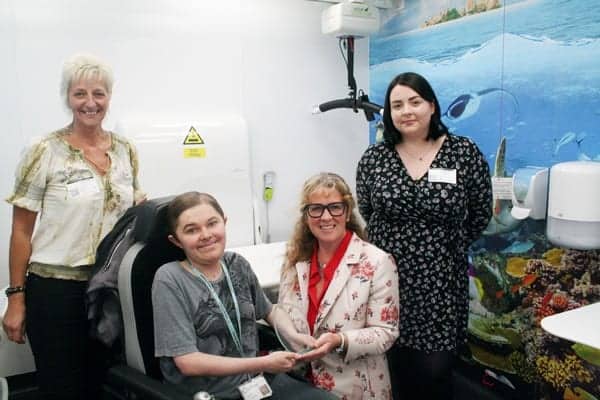 An inspiring aquarium that has gone above and beyond to create a Changing Places toilet which is an inviting space for people who need the facility. The room has been beautifully decorated to fit in with the venue, with aquatic themed wallpaper surrounding the equipment and little touches such as 'The Deep' themed soap dispenser.
Operations Manager, Louise Kirby, explained why they wanted to make their Changing Places toilet an interesting and individual space:
"We didn't want this room to be clinical; yes it has to be practical. It has to have the equipment in place, but we wanted it also to be a relaxing, beautiful environment. An aquarium is a great relaxing space for everybody, so why not bring that into the Changing Places facility."
In the other categories, the Overall People's Choice for the Best Changing Places Toilet was awarded to Manx Museum, Isle of Man, the first Changing Places on the Island, providing an accessible space for the community. Best 'Newly Registered' Facility is Annandale Water Services, a fantastic facility, paving the way for other Motorway Service Stations to get inclusive.
Clare Lucas, Head of Policy and Campaigns at Muscular Dystrophy UK, which co-chairs the Changing Places Consortium, said:
"Going to the toilet is a basic human right. But too many disabled people are being denied this because there aren't enough Changing Places facilities. "The People's Choice Awards are voted for by Changing Places campaigners and celebrate the venues and businesses making a positive difference, and we would like to thank them for their support. We hope others will follow their lead in making society more inclusive."
Discover Changing Places with Aveso
Interested in installing a Changing Places for your business? By dealing directly with Aveso you can be assured of cost-effective solutions as well as guidance on obtaining official Changing Places accreditation for the room. Book your consultation today to start the Changing Places conversation.