Changing Places Toilets have been Changing Lives since 2006 and 12 years on, it's great to see that there are more than 1,100 facilities in the UK. However, with over 1/4 million people in the UK that are not able to use standard toilets, is this enough? Standard accessible toilets don't provide changing benches or hoists and are often too small to accommodate more than one person. This means that people with serious disabilities and their families are often forced to change their loved one on a toilet floor. Should it not be the right of everyone to be able to use a toilet whatever their situation or location in the UK?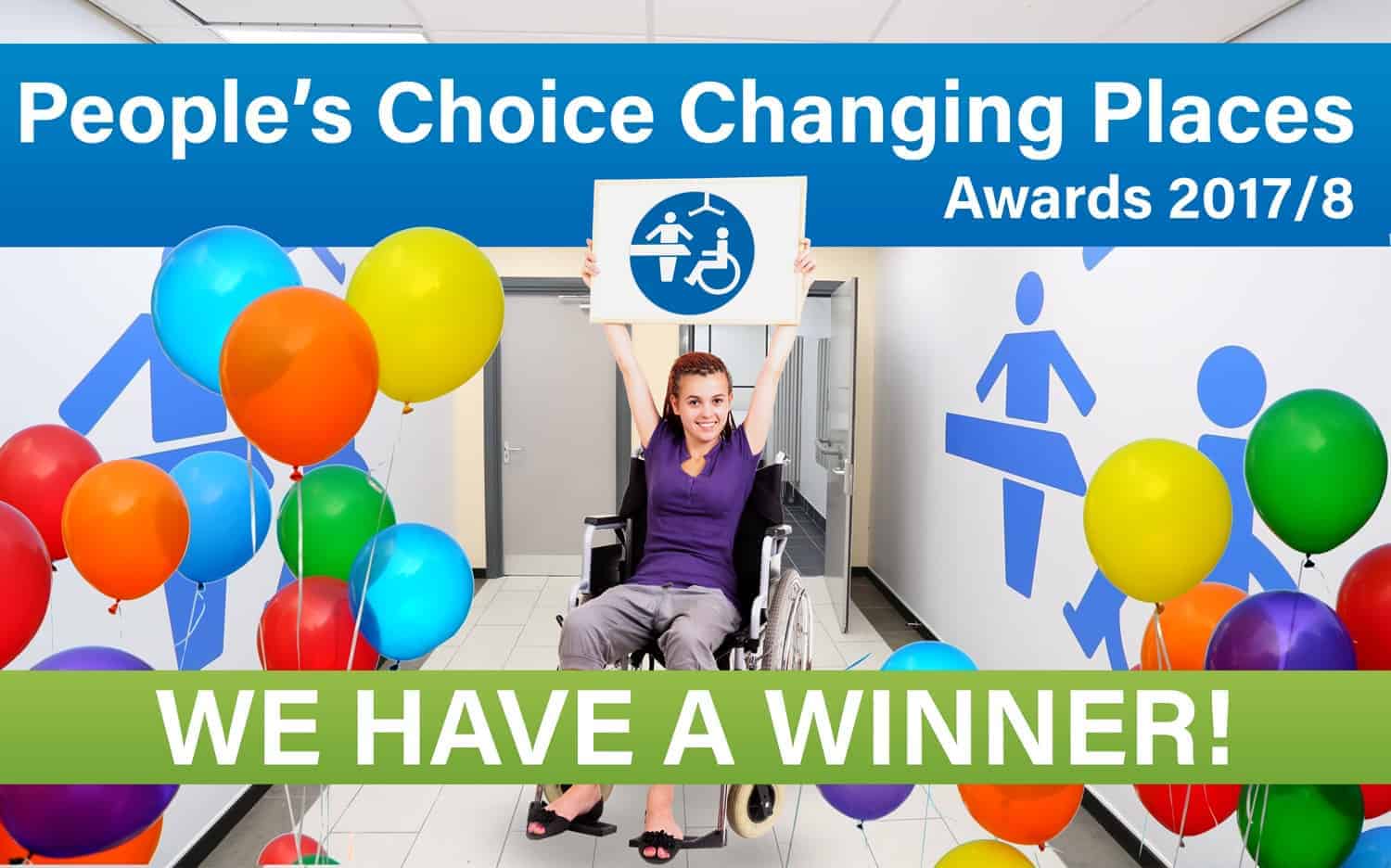 To celebrate Changing Places Awareness Day, Aveso, sponsors of the Changing Places Campaign, launched a public vote for "The People's" Favourite, Best Sign-Posted and Most Individual Changing Places toilets. It is hoped that a celebration of the fantastic facilities that have been opened will help to raise more vital awareness of the life-changing difference Changing Places toilets make to people's lives.
The 2017/8 Overall People's Choice for the Best Changing Places Toilet Award is Blackpool's Sandcastle Waterpark.
This very deserving winner's vision is " Inclusion for All" , an ethos evident in all they do, including great attention to detail to ensure wheelchair and disability access to all their facilities, an inclusion hotline to ensure a warm welcome to all visitors, particularly to those who require additional support, a "quiet room" and a commitment to staff training and awareness. John Child, the attraction's MD, explained, "The reason that the ethos is being realised is because everyone at Sandcastle Waterpark understands what Inclusion for All means, and works hard towards achieving it, no matter what role they have".
The Best Sign-Posted Changing Places is awarded to Ryan Box Changing Places in Crawley County Mall.
The signage for this particular Changing Places is exemplary. With great signage and an access to all ethos, the impact of these facilities can be far greater. Care was taken to ensure signage was placed at optimal locations from the facility door, around County Mall to locations around Crawley Town Centre. Councillor Peter Smith of Crawley Borough Council described, "As part of our overall town centre regeneration program, we sat back and looked at the wayfinding and branding for the whole of the town, to make sure that the people that know what Changing Places are, are able to find them."
The Most Individual Changing Places is awarded to Inverness Airport
We have seen a number of individual-ised facilities opened this year, many theming their facility to their attraction, often with a mural wall, but Inverness Airport have taken a different approach and incorporated a sensory corner, with comfy seating and subdued light-ing. Inverness Airport have recently been rated as Very Good in terms of their disability access – one of only 6 UK airports to achieve this rating.
Nic Bungay, Director of Campaigns, Care and Information at Muscular Dystrophy UK, which co-chairs the Chang-ing Places Consortium, said: "Having access to a registered Changing Places toilet can make the world of differ-ence to disabled people, giving them greater independence. But without enough of these facilities, more than a quarter of a million people with a disability are faced with the choice of not going out, or being changed on a toilet floor. The People's Choice Awards recognise the venues and businesses that are making a difference, and we would like to thank them for their support. We hope others will follow their lead so we can tackle the discrimination that many severely disabled people routinely experience."